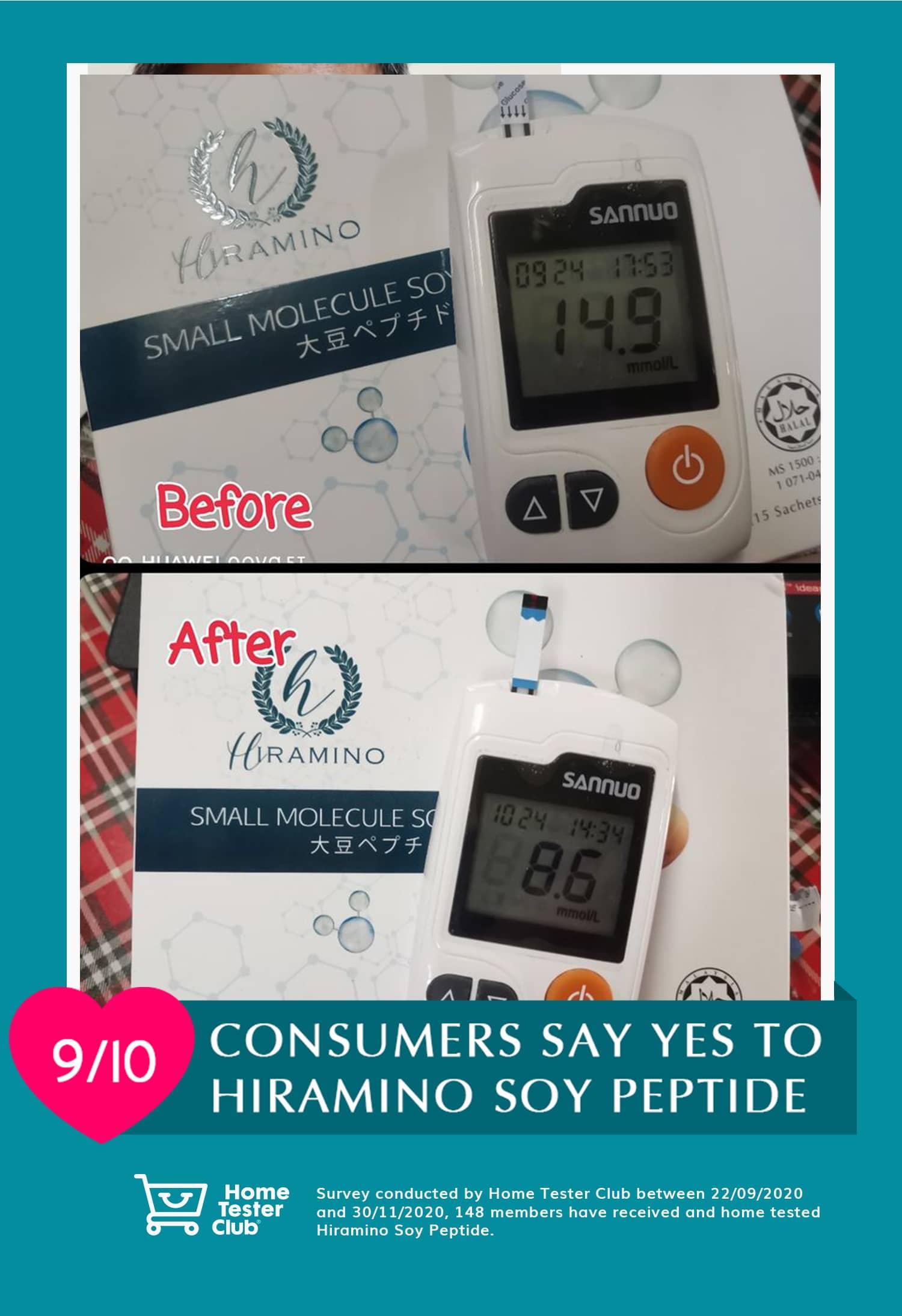 这是一个非常好的产品,服用后血糖真的有下降,非常有效,就是味道苦了一点,但整体来说还是可以接受,就像苦瓜一样
Blood glucose level before: 14.9 mmol/L
Blood glucose level after: 8.6 mmol/L
Janice (Seremban 2, Negeri Sembilan)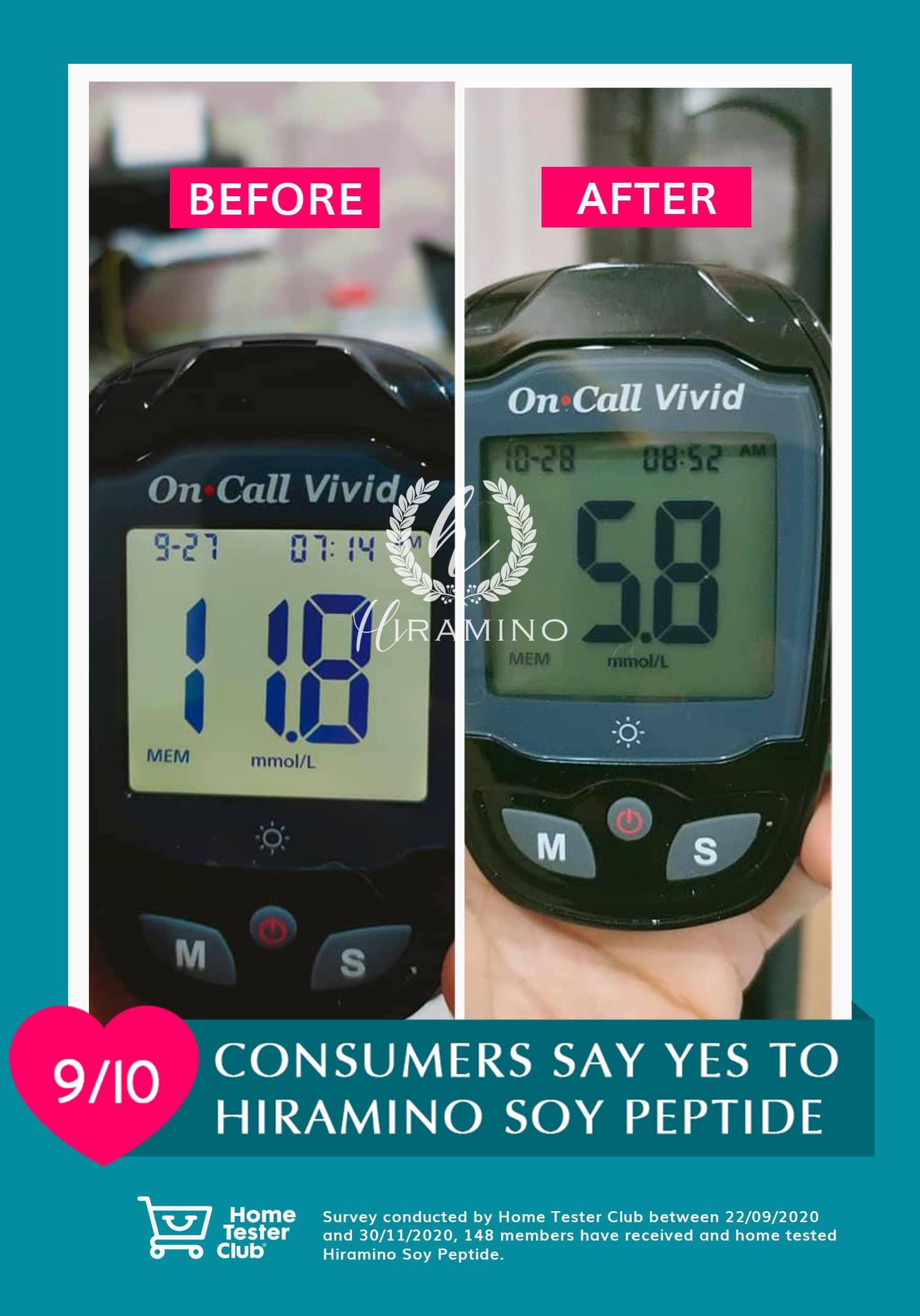 Good product, Fast Result
"I have been diagnosed with diabetes in 2018. Since then I am taking medicine prescribed by my doctor Metformin. After a while, my blood readings are not regular on some occasions, sugar level spike. I am also taking some supplements from the pharmacy i.e vitamin c and also zinc and control my diet. I have no issue with weight management. Then I discovered an advertisement on FB ...Tester Club which I decided to take part in. God bless me after I received the product, reading the instructions, I started consuming Hiramino as suggested, and quite surprised by the result. Merely after one week, my sugar reading reduces from 11.8 before taking this product and dropped to the lowest ever 5.8 after one month of consumption. I am feeling more energized, confident, and highly recommended this product to my friends who suffer from diabetes. Furthermore, the product is easy to carry, convenient, and ready to consume."
Blood glucose level before: 11.8 mmol/L
Blood glucose level after: 5.8 mmol/L
Elias (Johor Bahru, Johor)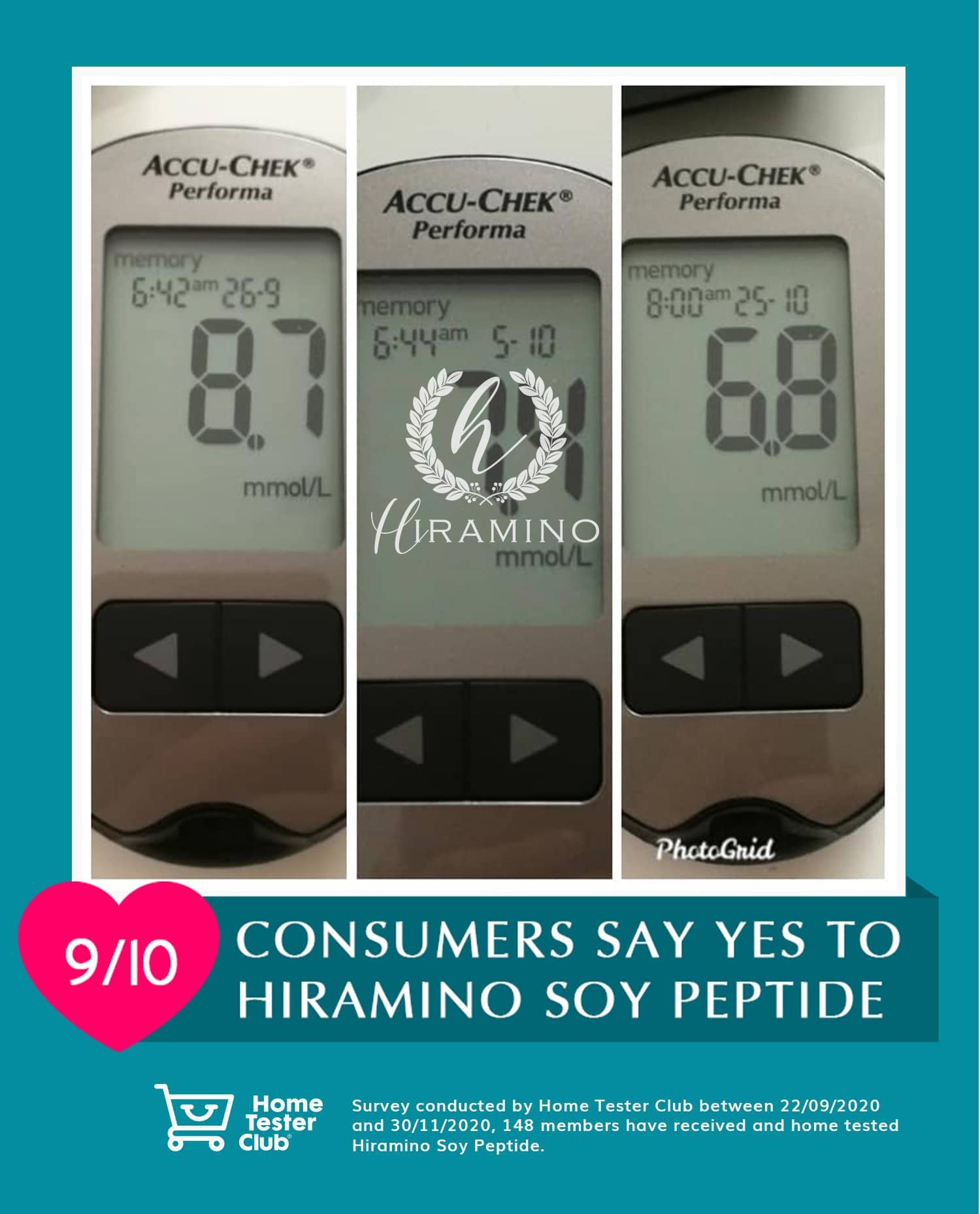 "Hiramino is a good product that helps to control blood sugar and in fact lowering the blood sugar level. However, the only thing I find not so convenient is when I'm eating out. Having to wait for 5-10 min before food. At times, my food arrived before I even consumed Hiramino. Overall, this is still a good product and natural."
Blood glucose level before: 8.7 mmol/L
Blood glucose level after: 6.8 mmol/L
Celaine (Petaling Jaya, Selangor)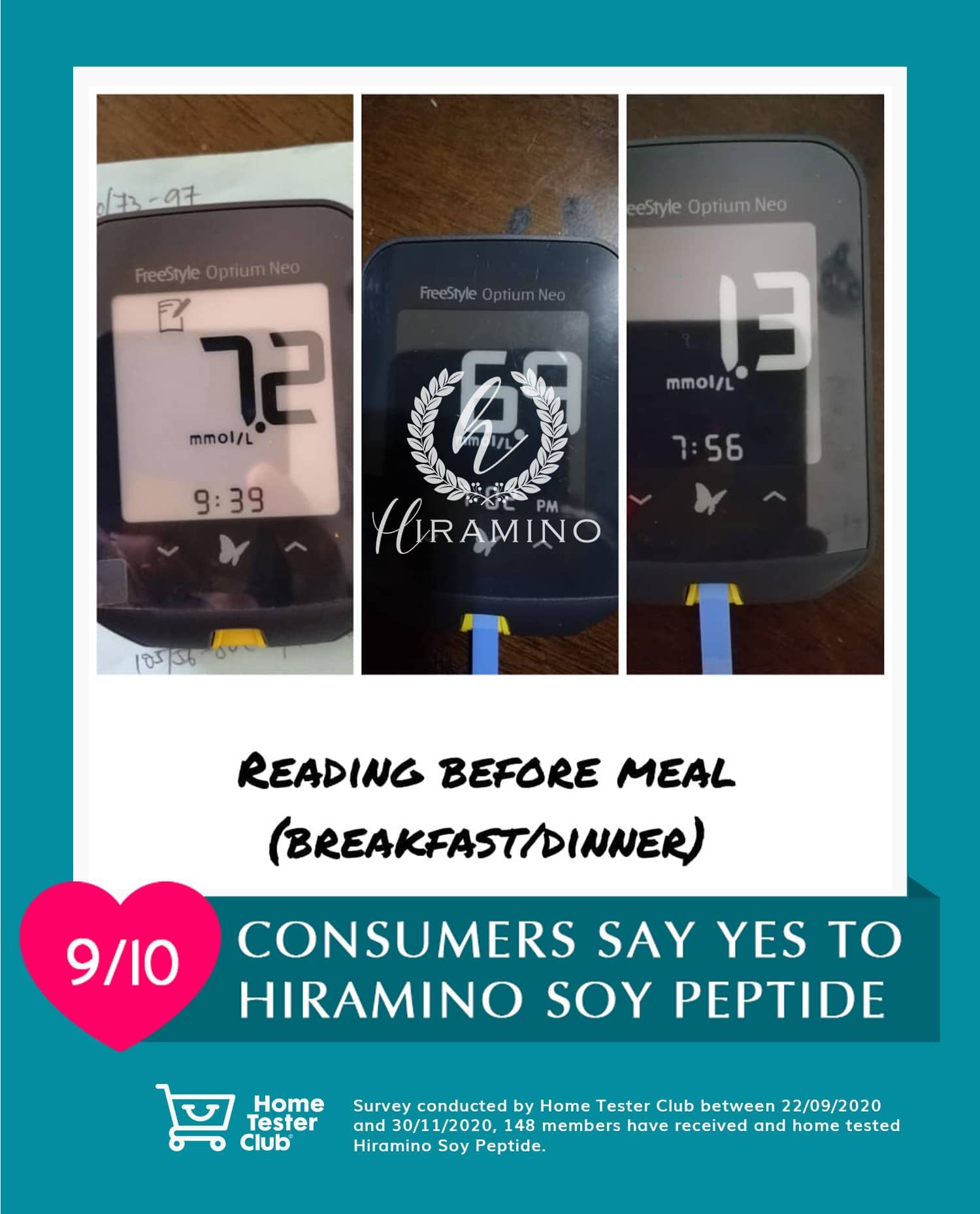 "My mom started consuming Hiramino on 7/10/2020. Her average sugar level always above 9 before meal & above 10 after meal. Now her reading is below 9 before meal (9.8, 9.1, 7.2, 6.9) there was a day reading 1.3 before breakfast. I'm so shock & 8.7 after meal. I notice she has less night urine, used to have 4-5 times every night, now is about 3 times."
Blood glucose level before: 12 mmol/L
Blood glucose level after: 7.2 mmol/L
Jayce (Segambut, Kuala Lumpur)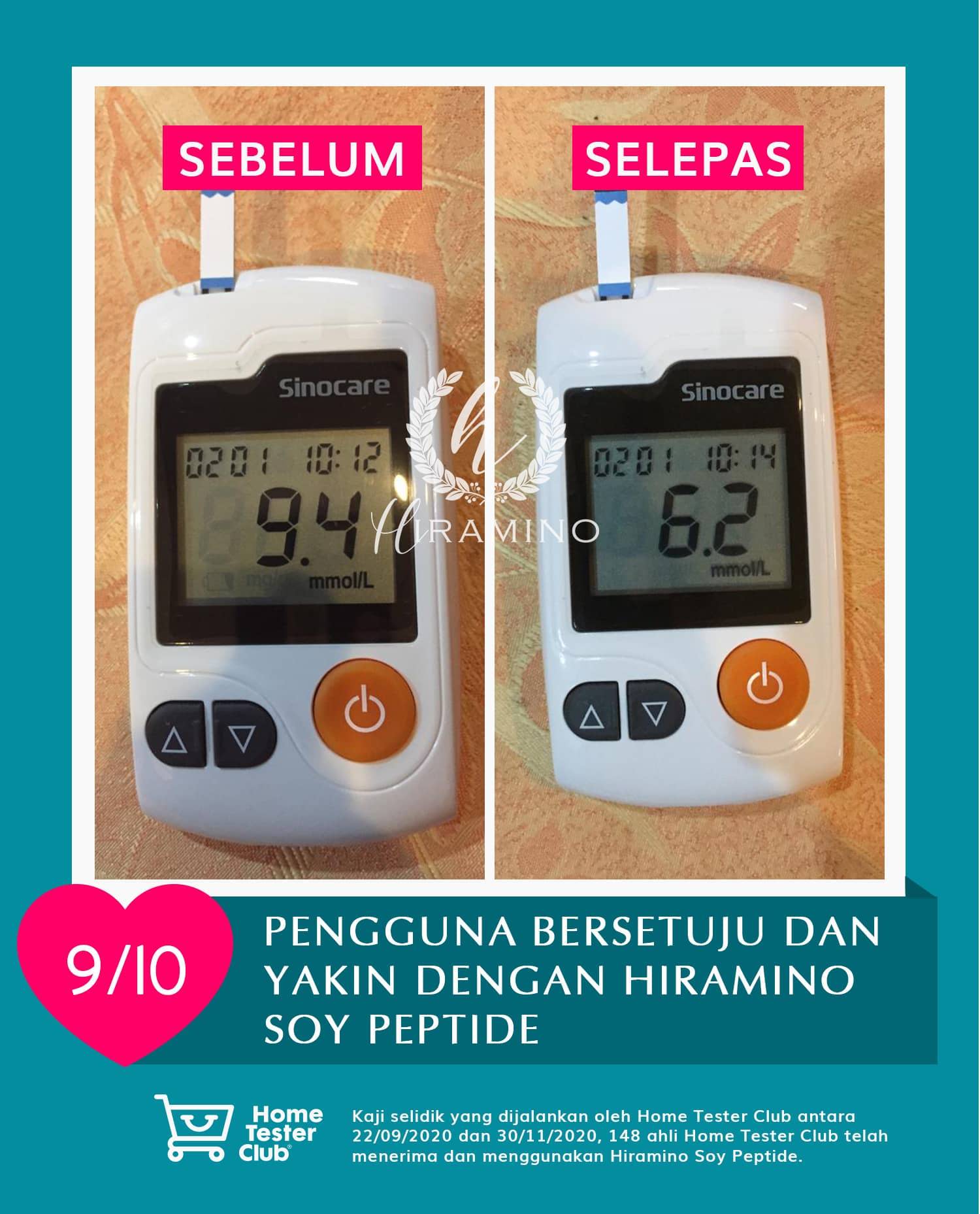 "Sangat membantu ibu saya.
Alhamdulillah Hiramino sangat membantu ibu saya untuk mengurangkan paras gula."
Bacaan gula darah sebelum: 9.4 mmol/L
Bacaan gula darah selepas: 6.2 mmol/L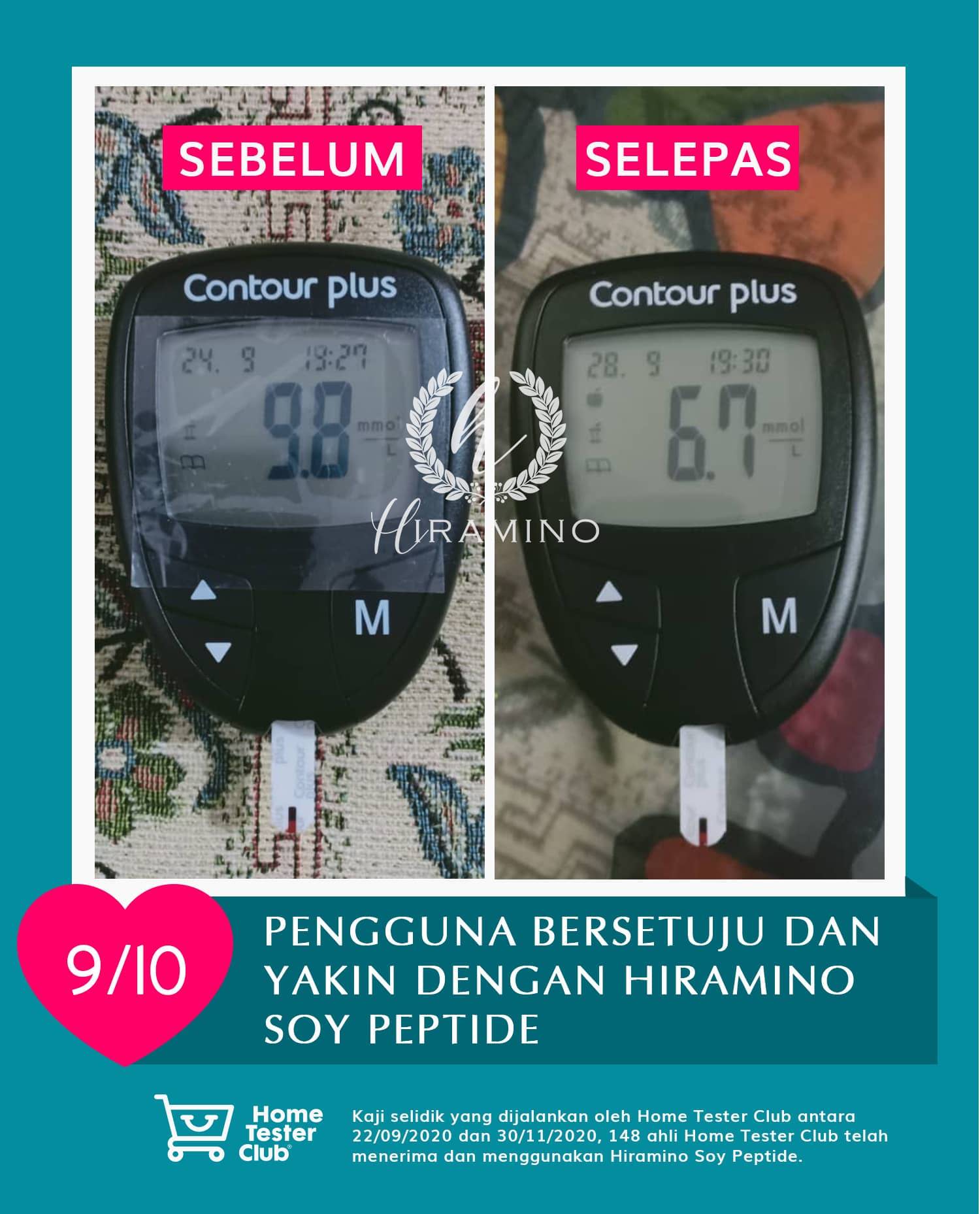 "Produk ini berkesan untuk menurunkan kadar gula dalam darah. Produk ini perlu dimakan setiap hari untuk hasil yang lebih baik. Rasanya tawar tetapi sangat berkesan, senang dimakan dan yang paling penting ia Halal."
Bacaan gula darah sebelum : 9.8 mmol/L
Bacaan gula darah selepas : 6.7 mmol/L
Azlin (Batu Caves, Selangor)